We are approaching the end of the year, and it seems like you can start making little changes to your space to give it a new look for the upcoming year. But how do you go about it without tiring yourself out with the whole process? It's simple! Begin by changing your curtains! Lighting can affect how big or small a room appears, and curtains play a huge role in how light lits and encompasses your space. Sometimes it doesn't take much to revamp a space totally. You just need one thing to make your room feel fresh and bring life into it. Curtains have the ability to transform the look and feel of your space in an instant!
How do hanging curtains make a room look more polished?
Regardless of your preferred design aesthetic, a good set of curtains make a tremendous difference to your home. Even the sheerest pair of curtain panels can be the finishing touch needed to tie the room together truly and bring a new perspective to the current space. Curtains can:
1) Adjust the lighting & Creates ambience.
Curtains can control how natural light enters your home. Light is a critical element of design, and it will greatly impact your home. It will create the right ambience for your living space by adjusting exactly when and where you want the light to shine.
2) Change the size of the room.
Some prefer to keep their space small and cosy, and some prefer their space to appear bigger, spacious and filled with light. Curtains can trick the eye to make a room appear smaller or bigger than it actually is.
3) Compliment design features.
Curtains can accentuate design features in your home, like ceramic tiles or vaulted ceilings.
4) Sound-proof the room
Certain sound-absorbing curtains help improve the sound quality, reduce vibration levels and provide sound insulation.
Now, as we recognise that curtains can set the mood of a room to a finished, tailored look, let's see what kind of curtains and blinds options you have out there, shall we?
| | |
| --- | --- |
| Night curtains  | |
| Day curtains | |
| Semi-sheer curtains  | |
| Heavy curtains to absorb sounds  | |
| Roller blinds | |
| Venetian blinds  | |
| Roman blinds  | |
| Vertical blinds | |
We understand that multiple choices might make you question which curtain/blinds will fit with space exactly. Not to worry, as that's where our expertise weighs in. For optimal usage of your space, ambience and revamped look, you may:
Use blackout curtains for your bedroom
Use printed curtains, sheer curtains, valances, roman blinds, and heavy curtains for your living room home theatre.
Use cafe curtains, roman blinds, roller blinds for your kitchen or bathroom with an easy clean and water-resistant material.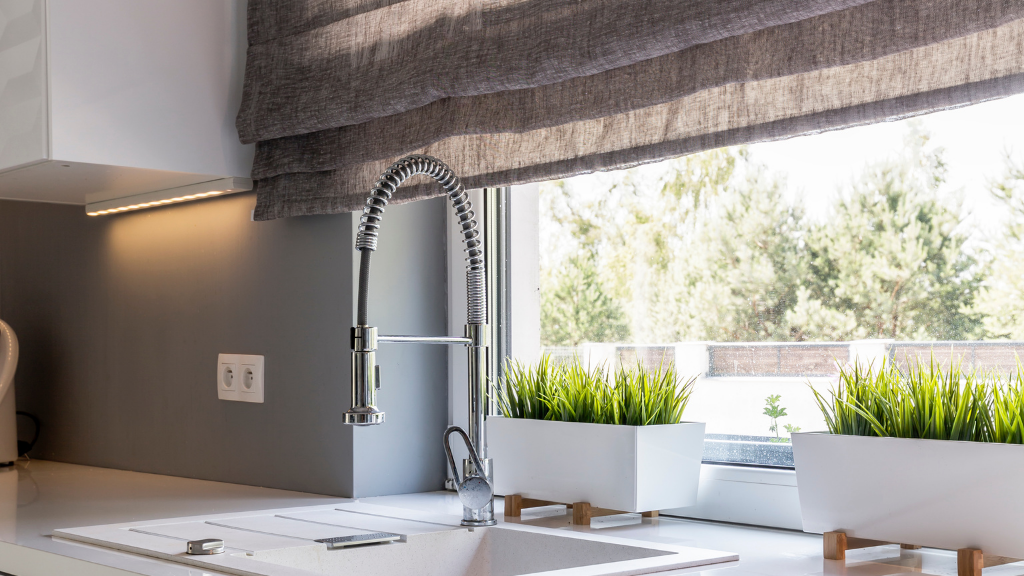 It's good to know your curtains and see how they transform the look and feel of your room! You don't want to end up in a living room that is too dark or gloomy that can bring your mood and energy down. Unless you actually prefer dim lights and darker rooms, you can choose your perfect blinds and curtains to go with them as well! Curtains can transform a space on many levels. They can immerse you with its soothing colour, soften architectural elements, and muffle the sounds! Research the different types of curtains and find one that is to your liking!
If you wish to get your room/space designed and decorated to your liking by professionals, get in touch with us now! Your dream space is just a call away. 😉